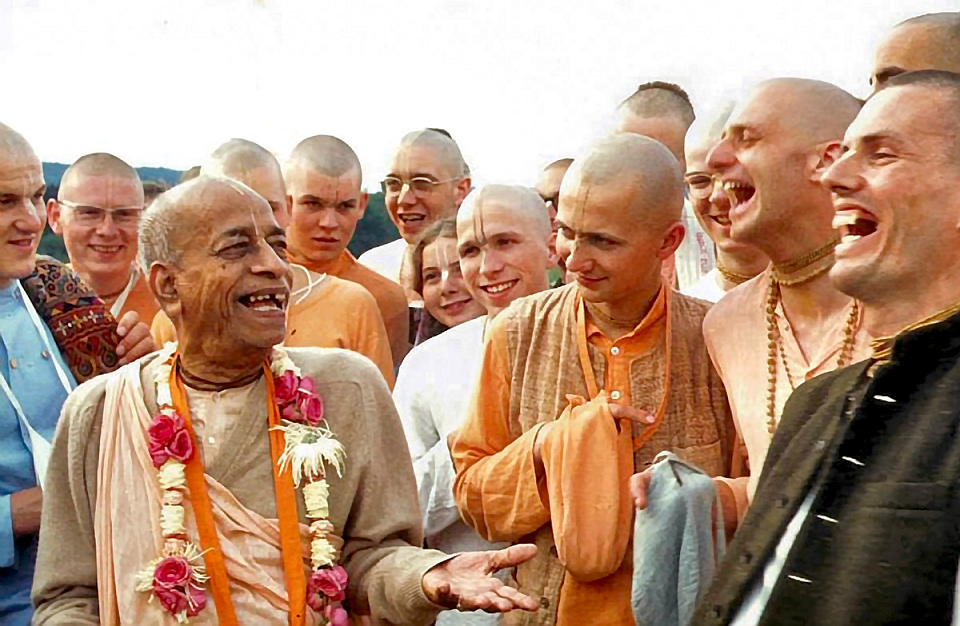 Srila Prabhupada with German devotees

Recently there was a post on Dandavats with a letter by the BBT Communications Team trying to justify their attempts to stop the distribution of the newly printed Original Srimad-Bhagavatams that Jitarati Prabhu has printed. I read the article with some interest, just to hear their argument and justification, for trying to stop the distribution of this fine set. But what was more interesting to me was the nice comment posted by Padmapani Prabhu ( at the bottom of this article ).
Mahasringa Das (MD) defeating nonsense
statements posted on Dandavats exposing their lies
Dandavats hypocrites against distribution of KBI's Original Srimad-Bhagavatams
Dandavats: "Recently, the BBT trustees became aware that Jitarati Prabhu, through his company Pristine International, printed sets of Srila Prabhupada's Srimad-Bhagavatam in New Delhi without consulting with or being authorized or licensed by the BBT. This is a serious legal matter, and his printing also has ramifications for the worldwide distribution of Srila Prabhupada's books; and so the BBT trustees who discovered Jitarati Prabhu's printing have delayed the release of the books.
MD: Last December a BBT member saw the 'only Prabhupada' Srimad Bhagavatam sets at a printer and became so envious of their superior quality they started a bogus law suit. They knew Jitarati prabhu was authorized by KBI to print them and didn't need to 'consult' BBT.
Dandavats: Jitarati Prabhu stated in a public memo that his independent printing of Srimad-Bhagavatam is his way of preserving an older edition of the text. He also expressed concern that the books he printed might now be destroyed by the BBT.
MD: Where is this public memo? BBT lawyers submitted a 30 point accusation and 3 of the points said that the books should be turned over to BBT or be destroyed so wouldn't any Prabhupada disciple be 'concerned'?
Dandavats: First, please note that Jitarati Prabhu's edition and the BBT's edition of Srimad-Bhagavatam are practically identical. There is no question of "preserving" some earlier edition of the Srimad-Bhagavatam. In fact, the BBT not only preserves Srila Prabhupada's books, but it also publishes earlier editions of them when needed. For example, it regularly prints the first edition of Bhagavad-gita As It Is for those who prefer it.
MD: Hold the phone folks! Jitarati prabhu published everything Srila Prabhupada wrote on the Srimad Bhagavatam including the Krsna Book in 10 volumes. BBT published 12 Cantos of the Srimad Bhagavatam including a conditioned souls comments and even had the audacity to say the set was done by Srila Prabhupada.
Dandavats: The BBT trustees have not proposed that the books Jitarati Prabhu printed be destroyed. Rather, the trustees discussed ideas with Jitarati Prabhu about how to move forward. Because he hasn't liked the proposals, the matter is now before the court.
MD: This is a lie which will be proved when people see what was presented to the court. Lie two is that Bhima gave Jitarati a proposal that he take out the 50,000 pages that KBI printed the book and replace it with a BBT printed it, ship all the books to America, sign a wrongful confession that he didn't have permission from KBI to print, pay them $1000,000 and swear he'll never publish another book in his life

Dandavats: The devotees who serve at the BBT, especially its legally appointed trustees, are bound not only to uphold the BBT's founding documents, personally approved by Srila Prabhupada, but also to execute the specific instructions Srila Prabhupada gave on March 14, 1974 in his "Memorandum to all ISKCON Centers." In that memorandum, Srila Prabhupada forbids the printing of his books outside the BBT as well as the collection and spending of the proceeds from sales by anyone other than the BBT. "This must not go on." Why? Because such independent printing "could eventually cause the financial ruin of the BBT."
MD: The BBT legally appointed trustees were the ones who agreed to let KBI print all pre 1978 Prabhupada books in 1998 and the "specific instructions" approved by Srila Prabhupada were that the BBT print only his books not some conditioned souls. Mismanagement, false ego and politics will cause the financial ruin of BBT not printing more of Prabhupada's books.
Dandavats: Jitarati Prabhu and others are in direct opposition to Srila Prabhupada's orders on these matters and should not be lauded for their departure from these instructions.
MD: Jitarati, myself and others are in direct opposition to the unaccountability of BBT thinking they can dictate to the Temples and devotees they must take cheaply printed books at the price they dictate, give no accounts, fly all over the world convincing people they should take a Bhagavad-gita with 4985 changes as an "IMPROVED" Prabhupada version and do a "Prabhupada said" thinking we're 'sheep'.
Dandavats: There is no doubt that Srila Prabhupada wanted to safeguard the BBT and the BBT's exclusive rights to print his books in order to protect and encourage the distribution of those books around the world. The distribution of BBT books is on the rise all over the world; in particular, BBT book sales have more than doubled in the last five years in North America, and there are similar increases in India, the UK, and Africa.
MD: Prabhupada wanted to safeguard his books, words and purports given by Paramatma because he knew they could save the world. However, now the BBT distributes, by force, changed books, conditioned souls books along with calendars and diaries.
Dandavats: This is not happening by accident. Rather, such increases require painstaking planning, cooperation, and dedication. Independent and unauthorized printing of Srila Prabhupada's books can easily sabotage this growth. Governments all over the world provide strict laws to protect companies from unfair interference in their businesses. Srila Prabhupada enacted similar protections for his main business interest, the BBT, to prevent undercutting by competitors not held to the same responsibilities he established for the BBT – for example, his desire to use BBT profits to "print as many books in as many languages" and then to distribute them throughout the whole world, and also to contribute significantly toward the construction of ISKCON temples.
MD: Who wrote this? They don't know that BBT authorized, encouraged and allowed KBI to print in 1998. Of course they know, but choose to spin this twist of independence of an authorized agent of KBI because his quality of Srimad Bhagavatam will put there's to shame.
Dandavats: Every follower of Srila Prabhupada holds his books as sacred. However, his specific instructions that his disciples and followers cooperate with the BBT for the printing and distribution of his books, his formula for allocating BBT profits for BBT and ISKCON development, and his specific written empowerment of legally appointed trustees to oversee these proceedings are also sacred.
MD: If the BBT hold Prabhupada's books as sacred why do they mention 3 times in their court presentation they want them destroyed. Prabhupada's formula hasn't been followed for 3 decades by the BBT regarding 50% of the profits of sale of books are suppose to go for building Temples (development) and there was any accounts shown to where their profits went although recently they've just begun to give to the TOVP.
Dandavats: Srila Prabhupada invested the BBT with the exclusive right to print his books in order to keep the BBT financially solvent and able to print his books in perpetuity. This is something we all want."
MD: Regurgitating the same point knowing that BBT gave KBI the right to print pre 1978 "unchanged" books is the old 'bait and switch' tactic used to bewilder the simple. It will be the BBT's fault when Prabhupada's books go to Public domain which is something we all 'don't want'.
CONCLUSION:
FALSE ARGUMENTS CAN BE CONQUERED BY FACTUAL ASCERTAINMENT.
(Purport S.B. 1.9.27 Only Prabhupada edition of Srimad Bhagavatam)
COMMENT BY PADMAPANI PRABHU
Hare Krishna Prabhus. Thank you for airing this matter publicly. I've been deluged with inquiries from concerned devotees around the world about this conflict and I'd like to get a better understanding of the details so that I can respond accurately. I was under the impression that devotees had reached an amicable agreement after the last court case that KBI (Krishna Books Inc.) could legally print Srila Prabhupada's original books, so I was surprised and dismayed to learn that there is yet another court case on the horizon. Surely devotees can somehow or other work this out co-operatively between one another without resorting to expensive lawyers and creating even more bad publicity for Srila Prabhupada's movement.
On a personal note, I'd like to mention that I served with Jitarati Prabhu back in the 70's in both the Winnipeg and Montreal yatras. Due to Jitarati's leadership and dedication to sankirtana, the Winnipeg temple was consistently number one in distributing Srila Prabhupada's books for years in the small temple category. Later Jitarati helped to spearhead large-scale collections for remodeling the old church in Montreal which is now the beautiful home of Sri Sri Radha Manohara. Although I haven't seen Jitarati Prabhu for at least 40 years, I always remember him as a sincere and devoted disciple of Srila Prabhupada.
We all have our own slants in Krishna Consciousness, but Srila Prabhupada repeatedly told us that we should try and work together despite our differences. I know from personal experience in publishing a magazine for devotees back in the 80's (The Vaisnava Journal) that we can get along no matter how far apart we might be on personal or philosophical issues. Devotees of all persuasions and from all camps — including the GBC — were communicating together on the same page, so I know it can be done. Where there's a will there's a way.
If you have any questions to Jitarati Prabhu please write to his email:
Jitarati Das (John Hanton)
Email: hantonjohn@hotmail.com
—————
Please also see:
Bombay BBT to destroy Srila Prabhupada's Books!
ISKCON/ BBT Degrades the Pure Srimad Bhagavatam!
Bhima Das (BBT Bombay) infringes on copyrights!
Only demons would destroy Prabhupada's books
The Lies of BBT and Mood of Cooperation
Concerning The Actual, Legal Identity Of The BBT
Srila Prabhupada's beautiful Srimad Bhagavatam - as it is
Srimad Bhagavatam invading the ISKCON Sales Market
Essential Edits and Jayadvaita's Re-Writing Srila Prabhupada's Books
Class Action Lawsuit for saving Srila Prabhupadas Original Books
BBT India Impounding Srila Prabhupada's original books