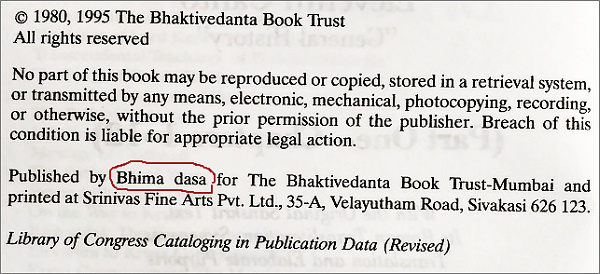 – Click on photo to enlarge for full view –
Bhima Das (BBT Bombay) infringes on copyrights!
– Is it Bhima's BBT or is it Srila Prabhupada's BBT? –
"The agreement reaffirms the validity of the Bhaktivedanta Book Trust (BBT) formed by Srila Prabhupada on May 29, 1972. This was a legal California trust into which Srila Prabhupada conveyed the copyrights to his books. All sides agree that this trust is still legal and alive, and that it is the true owner of Srila Prabhupada's copyrights, as Srila Prabhupada desired. This was an outcome upon which all the devotees, in a spirit of cooperation, submitted their willingness to agree. Now all sides are pleased to see Srila Prabhupada's copyrights secure within this original trust." (From the Mood OF Cooperation article)
Bombay India – Bhima Das (BBT Bombay) infringes on copyrights!
By: News Correspondent Bombay

– Is it Bhima's BBT or is it Srila Prabhupada's BBT? –

From Bhima (BBT Bombay): I don't agree anyone can just print and sell wherever they like just because they have new formats. Why should anyone have an untherthed license to do whatever they like?  
Here Bhima das (BBT Bombay) is criticizing KBI associate Jitarati Prabhu for copyright infringement of BBT books, although KBI has a valid license to print, yet he himself (Bhima das) is infringing on the BBT's copyrights, by placing his name as the "publisher" in the latest BBT publications. See photo. Is Bhima now the new self-appointed BBT himself?
In his perverted Bhagavatam, with Hridayananda conditioned soul purports, it is stated: "Published by Bhima das for the Bhaktivedanta Book Trust-Mumbai" See photo.
WHERE IS THE LICENSE OF BHIMA DAS?
This rascal puts himself as the publisher, without having a license and on top claims the Hridayananda conditioed soul purports to be authored by Srila Prabhupada.
Bhima and his rotten BBT Bombay even lie in their 39 year late copyright registration in India that the later chapters of the 10th canto and all the 11th and 12th cantos are authored by Srila Prabhupada.
Bhima has claimed that he did not change the Prabhupada translated part of his Bhagavatam sets. But he or someone lied in the copyright registration office saying the author of the rest of it is Srila Prabhupada.
The 1972 BBT India trust was established by Srila Prabhupada to publish his books but not to hold copyrights. So when BBT India prints a book, they should be the publisher and NOT Bhima das. What is the need to have Bhima to be the publisher of BBT books? Does he have a license from the BBT?
If Bhima has a publishing license from BBT then he should have been the one to take legal action. In the photo above it shows Bhima as the publisher of this Srimad Bhagavatam. So he should have been the one to take legal action. But he did not do that and instead BBT took legal action. So who is the real publisher we would like to know?
Is Bhima the ONLY ONE running the BBT in India? Does anyone else have any say?
-------------------
If anybody can help please write to Gupta or Vedaguhya das or directly to Jitarati Prabhu

We welcome any comments / information from devotees which will be posted in future updates.
If you have any questions to Jitarati Prabhu please write to his email:
Jitarati Das (John Hanton)
Email: hantonjohn@hotmail.com
Please also see:
Bombay BBT to destroy Srila Prabhupada's Books!
ISKCON/ BBT Degrades the Pure Srimad Bhagavatam!
Only demons would destroy Prabhupada's books
The Lies of BBT and Mood of Cooperation
Concerning The Actual, Legal Identity Of The BBT
Srila Prabhupada's beautiful Srimad Bhagavatam - as it is
Srimad Bhagavatam invading the ISKCON Sales Market
Dandavats hypocrites against distribution of unchanged Srimad-Bhagavatam
Essential Edits and Jayadvaita's Re-Writing Srila Prabhupada's Books
Class Action Lawsuit for saving Srila Prabhupadas Original Books
BBT India Impounding Srila Prabhupada's original books