BBTI Spends Vast Sums to Hide Court Documents
"To recognize the Founder-Acarya of the International Society for Krishna Consciousness, His Divine Grace A. C. Bhaktivedanta Swami Prabhupada, as the supreme authority in all matters of the Corporation, or Society: His Personal representatives, the Governing Body Commission, as his authorized agents or executors, appointed by him according to the document Direction of Management, dated July 28, 1970." (Incorporation ISKCON of the Bay Area Page 4)
BBTI Spends Vast Sums to Hide Court Documents
BY: MAHA PURUSHA DAS
Aug 17, 2010 - NEW YORK, USA (SUN) —
Why is BBTI spending hundreds of thousands of Book Distributors' laxmi to HIDE its court filings?
As you all must be aware, on November 13th 1998, BBTI and Hansadutta reached an agreement in the now famous BBTI vs Hans Kary lawsuit in California Superior Court whereby BBT was revalidated to hold Srila Prabhupada's copyrights, and Krishna Books, Inc. was formed and given license to print Srila Prabhupada's books.
It was in this lawsuit that BBTI/GBC had infamously adopted the suicidal policy to state that BBT never existed and that Srila Prabhupada was not the author, but a worker for hire for ISKCON temple of Los Angeles. Anyway, due to some good fortune for them, a settlement was reached and they reverted their stand, but not before the whole court file was sealed by them with a petition to the court never to be seen by general devotees, followers of Srila Prabhupada.
But due to some misfortune for the GBC, in the Long Island case some of those controversial filings surfaced, which necessitated the court in New York requiring all of the court records in the Hansadutta case to be opened for the public.
Hence the ISKCON, Inc. in Long Island filed a simple application to the Los Angeles court in July 2008 seeking to unseal the court files so that the general public, including itself, and the worldwide society of devotees can see those filings.
Imagine its surprise when 4 lawyers from the BBTI/GBC/ISKCON LA turned up to oppose the unsealing of records.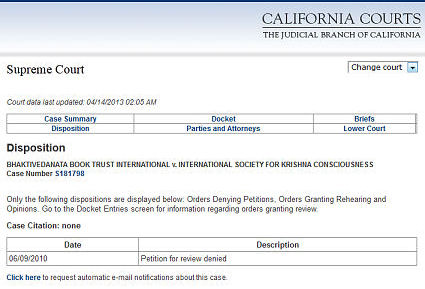 1. Gupta Das (Joe Fedorowsky) – Ostensibly as attorney for Veda Guhya (KBI), but leading attorney for the case on behalf of the GBC/BBTI/ISKCON LA combo, directing other attorneys below in conjunction with Amarendra das.
2. Joshua Hudas - Attorney for BBTI

3. Amarendra das (David Liberman) - Ostensibly as attorney for ISKCON LA, but lawyer for GBC

4. Robert C. Moest - Attorney for ISKCON of CA, Inc.
What ensued was a two year legal battle that saw ISKCON, Inc. -- unprepared as it was for the massive opposition -- loose at the initial court. Being forced to retrieve these crucial documents to defend itself from another unnecessary 6 year lawsuit filed by the GBC against the Long Island temple Sankirtan devotees (some of these California documents are completely opposite to what has been submitted by the GBC in New York), it appealed and won at the Appellate Court on March 1st, 2010.
As expected, the court ordered that the files should not have been under seal in the first instance and that if there are any individual documents that need to be sealed under extenuating circumstances, then the GBC/BBTI/ISKCON LA combo needs to prove it.
The GBC/BBTI/ISKCON LA combo asked for a review of this Order by the Appeals Court on March 16th 2010, which the Appeals Court promptly denied on March 24th, 2010.
The "brave" GBC/BBTI/ISKCON LA combo then went one step further in this ludicrous splurging of book distributors' hard earned laxmi. They went and appealed to the Supreme Court of California on April 1st, 2010. As expected, on June 9th, 2010, the Supreme Court also denied even a review of the case and returned the case back to the Trial Court for hearing on which documents need to remain under seal.
Those who want to can see the brief Order here.
The latest news is that the Los Angeles Trial Court on July 30th, 2010 issued a minute Order stating that all files related to the case not in the court file are not under the court seal anyway, so those can be freely accessed. There will be a hearing on August 31st to find which documents need to remain under seal. The GBC/BBTI/ISKCON LA combo needs to come up with arguments why they need to keep certain documents hidden from public view and for what reasons.
All who have had dealings with US attorneys know that they charge a minimum of $250-$300 an hour. Roughly calculating the time spent in preparing the cases, their discussions, court appearances, appeals, etc. by 4 lawyers, the GBC/BBTI/ISKCON LA combo must have spent a minimum of $250,000 on this "secretive" operation.
Do any of the Book Distributors know about this? Do they know any of the ridiculous reasons why the combo is so keen to make sure those 10-year old BBT case related documents remain hidden for eternity? What is in there, anyway, that is so "secretive"?
When was the last time any of the authorities in charge read the Nectar of Devotion, the part about what is favorable devotional service? And... when was the last time any of those authorities went out distributing books and got $10 for a Bhagavad-gita As It Is, or $2 for Perfection of Yoga? Takes a bit of staying out to come up with $250,000 from the profits... and if we are following what Srila Prabhupada wants for the BBT, shouldn't it be transparent? Isn't Srila Prabhupada the transparent medium for us?
Keep tuned in for updates on more splurging by the combo... lawyers eva lawyers eva lawyers eva kevalam!!!

Document of Inheritance for HDG Disciples


The Movement is More Than The Institution


Collection of PDF Documents on the Ritvik Guru Issue